Subscribe: Apple Podcasts | RSS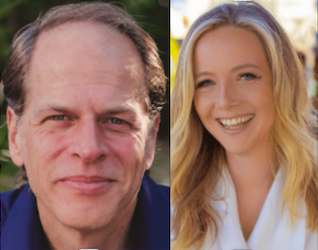 When it comes to having success in the online space, the importance of consistency is something I preach about – A LOT! Today's guests, Richard Taubinger and Kylie Slavik of Conscious Marketer, are experts in the online space who understand the need for consistency, and I'm excited for you to hear what they share about consistency, the state of social media right now, launching and so much more!
Conscious Marketer is a digital marketing agency that has been in the digital space for over 18 years serving conscious businesses, entrepreneurs, and publishers. The agency has managed over 250 online digital launches including online courses, membership sites, virtual summits, and high-ticket offers. These digital launches have generated over $50 million in revenue and reached over several hundred thousand customers. You can sign up for Conscious Marketer's email list now and receive the Conscious Client Attraction Process Report at www.consciousmarketer.com/!
Don't forget, you can get exclusive video content to grow your coaching business at www.naturalborncoaches.com/youtube.
What We Cover in This Episode:
How The Conscious Marketer uses consistency in their business
Richard and Kylie's thoughts on whether organic engagement is low and if you should you be on more than one platform
The ways they use AI in their business and how they see the future of AI in the online marketing sector
A hybrid approach to batch working and creating with the energy of a real time launch
Tips for launching launching and keeping your momentum and energy up during this time
What to do to start bouncing back from a disappointing launch
The importance of status, magnetism and showing yourself as a leader


QUOTES:
"True creativity is going to be rewarded and really separate itself out, and I think of AI as helping my clients lean into more soul or higher-based content." [Richard]
"I am not anti-AI, and I am not for AI; I just see it as another evolving tool and actually a reflection of the consciousness on humanity as it grows." [Richard]
"If people don't see you as a leader and they don't see you somebody who can truly solve their problem, they are not going to buy no matter how good your offer is." [Kylie]
"If people don't have that "know, like and trust factor", their audience doesn't really believe in them. If they have any status in their niche or industry, it is going to be a lot harder for them to sell even if they do have a really good solution." [Kylie]
"What I have noticed about the quality of the content as an overall whole that people are putting into Facebook and other platforms is decreasing; [so] it is really about putting the effort in." [Richard]
LINKS:
The Conscious Marketer Website & Podcast
Episode 80: Natural Born Coaching with Marc Mawhinney
You can get all the details now for the brand-new Secret Coach Club 2.0 at http://secretcoachclub.com/!

Join The Coaching Jungle Facebook Group!
Are you unhappy with your online brand? If so, you can get a free website makeover from Pinnacle Brands! There's no catch and no obligation, but spots are limited. To get your free website makeover, go to https://www.naturalborncoaches.com/makeover!